| | | |
| --- | --- | --- |
| | ...The First | |
(Above Left: The logo for Sugar and Spike; © DC Comics, Inc and Warner Bros., Inc..)
---
As you may know, Rugrats was created by Klasky, Csupo & Germain, based on Klasky & Csupo's family life with their children. However, while they created Rugrats, they did not create the idea.
The idea of talking babies and their adventures was created by Sheldon Meyer, and used in his comic book, Sugar and Spike was first published in April 1956 and published 98 issues through October 1971. As with Rugrats, Sugar and Spike were a couple of babies that talk to each other, and certain other characters, in English, but talk in gibberish to the grown-ups. They also go on certain types of adventures, as well, and view various things with a completely different perspective.
And, as with Rugrats, Sugar and Spike were also regulars in a Nickelodeon series -- they appeared in an early-1980s Nick series Video Comics, where stories from selected DC comics are read by off-screen voices, panel-by-panel, right off the pages of the comics.
Here are some sample covers from the Sugar and Spike series:
(Below: Covers for various issues of Sugar and Spike; all from eBay; all © DC Comics, Inc and Warner Bros., Inc..)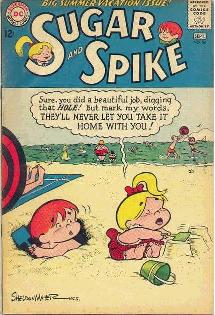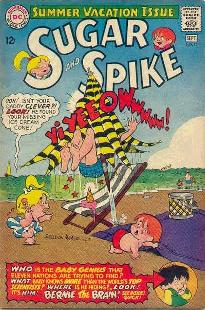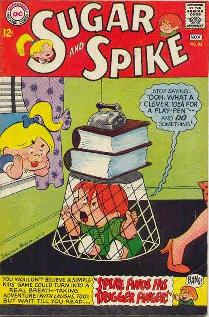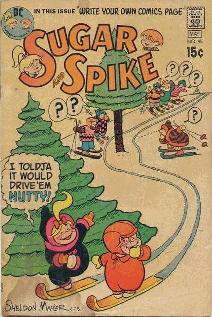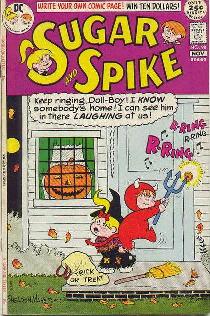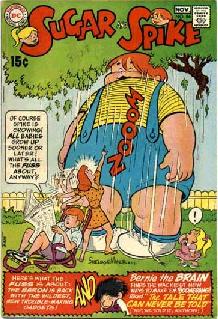 ---
If you would like to have a look at Sugar & Spike, I suggest visiting your local comic shop, or checking the web for stores that may offer them (eBay is another excellent source). Unfortnately, all issues are out of print; because of that, some issues may be very expensive, so you may want to shop around for the best price, especially if condition doesn't matter and you intend on redaing them.