Reality TV --
Nicktoons Style

(Left: "Meet The Moores" -- the first Nicktoon based on an actual, ordinary family. From Nick UK; © 2003 Nickelodeon UK.)
---
In Britain, Nicktoons TV did something no other TV channel or network has done before (to my recollection), and Nick US is reluctant to do (at least in a satisfactory manner) -- turn a real-life family into a Nicktoon.

NTTV UK has done just that, turning the Moore family (left) from Shepshed, Leicestershire, England into an animated family in a series of weekly 60-second shorts NTTV calls Meet The Moores.

(Left: The real live Moore family, from Ananova; © 2003 Ananova.)
The first episode of Meet The Moores was seen on NTTV UK at 5PM on Monday, 5/5/2003.


The series features Rob ("Dad"), a used car salesman; Tania ("Mum"), a former stewardess; Jack, a 15-year old DJ; Roberta, a 12-year old who wants to be a cop; Eliza, a 9-year old gymnast and disco dancer; and Jemimah the 3 year old little terror.

(Left: The animated Moore family, from Nick UK ; © 2003 Nickelodeon UK.)
Here are some more details on this lovely family, from Nick UK's website:
Back in July 2002 Nick set out to find the Nicktoons TV family! We searched high and low to find the perfect one and on Monday 5th May on Nicktoons TV you can see the
results in Meet The Moores: The Nicktoons TV Family!

Who are the Moores?
Well they're a real-life family from Shepshed in Leicestershire. Here's their full
lowdown...




Dad (Rob) - he's a second hand car salesman.

Do you think your family is the typical British family?: Yes, wherever
we go we seem to be the entertainment for other people!

Why do you think you were chosen as The Nicktoons TV Family?:
Hopefully because we are an entertaining, loving, close and friendly
family with smiling faces!

What was your initial reaction when you found out you had won?: I was gob
smacked. It was unbelievable and that it couldnt happen to us!

Hobbies: Bingo Caller

Proudest Moment as a dad: Being at the birth of my children and seeing my girls
take part in their first dance show on stage I cried!

Most embarrassing Moment: Backing a car into a plate glass showroom window.




Mum (Tania) - she's a former airhostess.

Do you think your family is the typical British family?: Yes, our
lifestyles and our approach to life are very British, but because we are
such a big family, my desire to organise everything and everybody
means we often end up looking like a comedy act.

Why do you think you were chosen as The Nicktoons TV Family?:
Because we have a wide range of ages and personalities which provide us with lots of
stress, plenty of laughs and a hectic lifestyle.

What was your initial reaction when you found out you had won?: I was amazed and
ever since I have had to pinch myself when I wake up in the morning in case it was a
dream!

Proudest Moment as a mum: Jack DJing in front of the entire Moore family at
husband Robs surprise 50th birthday party.

Most embarrassing Moment: Fainting at the dentists when daughter, Roberta had
tooth removed!




Jack - he's 15 and is a keen DJ who runs a mobile disco.

What do you want to do when you grow up? Either a) nothing b)
professional DJ c) guitarist d) sound engineer, or, e) computer games
tester.

How do you think winning will change your life: I think it will be a lot of
fun and very exciting!

Hobbies: Playing computer games and DJing. I have my own mobile DJ unit!

Claims to fame: The back of my head was on ITV news and in the newspaper when I
won the Demontford University Technology Challenge.




Roberta - she's 12 and really wants to meet Duncan from Blue!
(Duncan is a member of a British boy band called "Blue". -- SM)

What do you want to do when you grow up? Policewoman (detective)

Why do you think you were chosen as The Nicktoons TV Family?:
Because we are amusing The Moores are here to stay!

How do you think winning will change your life: I will become really
famous!

Most embarrassing Moment: Getting lost at Leicester City Stadium and starting to cry.
Lots of people had to start looking for my dad!




Eliza - she's 9 and loves to disco dance and do gymnastics.

What was your initial reaction when you found out you had won?: I
couldnt wait to go to London to the Nickelodeon TV studios.

Unusual Talents: Impersonating Eliza Thornberry.

Most embarrassing Moment: When I broke my foot and had to go to
school with my leg in plaster and a giant shoe on top!




Jemimah - she's 3 and is a cross between a whirlwind & Houdini!

What do you want to do when you grow up?: A mummy and a
hairdresser

Hobbies: Hiding keys, escaping from my car seat and disappearing in
the house so that the whole family has to come and look for me!

Claims to Fame: Escaping from my pushchair on holiday in France and running on
stage during the cabaret dance routine.

Most embarrassing Moment: Going to a fancy dress party with mum and dad dressed
as Dolly Parton and Boy George!

The series is the first time the trials and tribulations of a real-life family have been
turned into a cartoon! The show takes in every part of their lives and their wacky
approach to life is going to lead to quite a few fun and games!

The whole family is gobsmacked that they got chosen from thousands of families,
the neighbours are about to be blown away and you can too, starting on Monday!

So tune into Nicktoons TV for Meet The Moores at 5pm Monday 5th May for a very
British family!
---
Watch The Moores Online
For those of you who don't get NTTV UK (especially those outside the British Isles), you can watch the Moores online -- all you need is a browser with Flash 6 installed. See them at Nick UK's website.

---
The Closing Credits
Here are the closing credits, found at the end of every Moores episode. As you can see, no one from the Moore family is involved in the actual production of these shorts.
(From Nick UK ; © 2003 Nickelodeon UK.)


---
How The Press View The Moores
When the first 60-second short premiered, the Moores became media darlings overnight. To see their clippings, click here.
---
How The Moores Got There
The Moores' road to animated stardom began on July 22, 2002, when Nicktoons TV signed on for the first time in Britain.

On the day of the launch of the UK Nicktoons TV, Nick UK has announced the first original program for any version of NTTV -- the world's first animated reality series.
Nick UK searched for a real-life British family who will star in a new animated series based on them. Here is a story from C21 Media on the project:
Nickelodeon unveils reality-toon project

With its new Nicktoons TV channel launching in the UK today, Nickelodeon UK has unveiled a reality-toon project to create a new
animated sitcom based on a real-life British family.

The project, starting today, sees the broadcaster embarking on a two-month search process to find a family suitable to be immortalised
in a TV series, á la The Simpsons.

In the initial phase, families will be encouraged to put themselves forward as candidates, via premium rate lines, websites, roadshows and touring talent scouts. After September 1, the ten finalist families will be selected by a panel of experts and production will begin early 2003.

2D animator Milo Waterfield will direct the resulting series - comprising ten one-minute interstitials - for an airing on Nicktoons TV alongside hits like Hey Arnold and Rugrats.

Nickelodeon UK's director of programmes, Howard Litton, said: "The Nicktoons TV Family is a cartoon first. We think that the opportunity of having one's family immortalised in a cartoon is something that will be massively popular and will get the UK buzzing."

A Nick spokesman also told C21 that the show, which has a working title The Nicktoon TV Family, might end up being called after the surname of the winning family - "so long as they're not called Simpson."

He added that a decision about whether the show would develop into a longer half-hour series would be made after the initial run of shorts. "It's interesting to note that The Simpsons started as a series of shorts on The Tracey Ullman Show," he added.

Ed Waller
22 Jul 2002
© C21 Media 2002
The BBC's children's news program, Newsround, adds this about the promotion:
Search is on for real-life cartoon family

The search is on to find a real-life family to base a new cartoon show on. The cartoon is likely to be a cross between The Simpsons and The Osbournes, say Nickelodeon who are making the programme.

And they are looking for any kind of family to base their characters on, from single-parent ones to more unusual families with loads of kids or odd grannies!

The plan is to start off with just 10 short episodes to be shown in between other cartoons, such as Rugrats and Hey Arnold!

But Nickelodeon say if the show is successful, they could make it into a series and possibly show it around the world.

Families who want to be considered can apply through the Nickelodeon TV channels or via leaflets that will be handed out during Nickelodeon's Summer 2002 Roadshow.

And the winning family will be announced early next year.
On the UK NTTV site, Nick provides some more information about the project:
Want to see your family star in it's very own cartoon?

Coming to a television near you, Nicktoons TV is the fresh new channel from Nickelodeon delivering non-stop cartoons straight to your living room! And if that wasn't cool enough - to mark the start of this great new channel we're giving you a once in a lifetime chance to see your family - yep that's YOUR folks on TV as Nickelodeon starts its search for a real-life family to star in its very own cartoon show - "The Nicktoons TV Family!"

So the next time you start flicking the remore control to tune into your fave Nicktoons TV shows, you could even be watching your mum, dad, your gran do all the crazy everyday things that make you and now the nation laugh!!

And if you thought this couldn't get any better, this awesome competition prize also includes a weeks holiday to the home of Nickelodeon TV in America. (Don't know if they meant New York, Orlando or Burbank. -- SM) Impress your mates as you go behind the scenes to see how some of the best-loved cartoons are brought to life as well as meet the stars themselves as you come face-to face with the Rugrats & Hey Arnold!

This is truly a fantastic prize, the only one of it's kind ever! All you have to do is send in a photo of your family and tell us why you deserve to have your very own cartoon!
Below is the form that the above articles were talking about -- if you have parental permission AND if you are British AND you have a time machine to go back to before the deadline, print it out, fill it out, and mail it in.
(Below: Form from Nick UK; ©2002 Viacom.)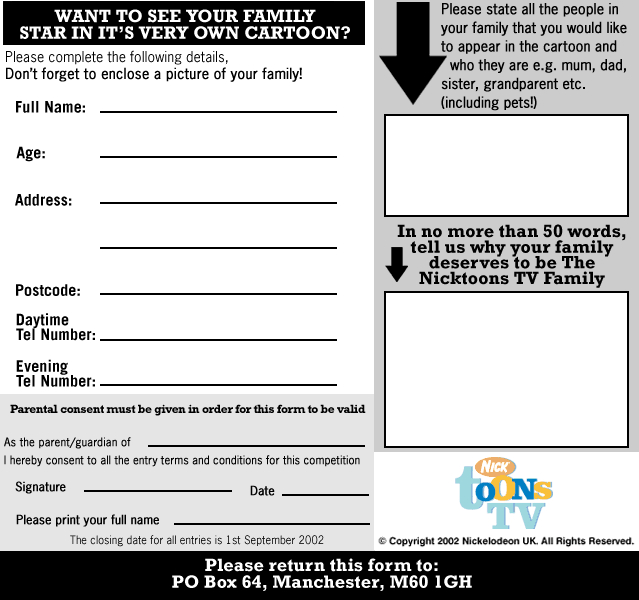 (Source: The Nickdisk Forum)
---
The Short List
In mid-October 2002, ten families were selected to be finalist in The Nicktoons Family contest. One of these, of course, were the Moores, but another was the Hynam family, who lives in Bristol, a port city in southwestern England, near the Welsh border. From an unknown source (via the Nickelodeon Inc. forum), here's a look inside the Hynams, and what they did as finalists.
The Simpsons had better look out - because here come the Hynams.

The Bristol family have been shortlisted along with nine other UK families to become the face of Nickelodeon's new toon channel, Nicktoon TV.

They beat thousands of cartoon hopeful in the search for a new Simpsons-style cartoon.

Cartoonists and judges from Nickelodeon scoured the UK for a family to immortalise in a cartoon form.

Nickelodeon scout John Byrne visited Broadmead two months ago to sketch families shopping.

The Hynams, however, entered the competition after younger daughter, Kimberley, aged 13, logged on the cartoons company's website.

Nic Hynam, a 36-year-old builder, and his wife Kath, aged 34 have four children.

Nic reckons his family has got what it takes to be the subject of a cartoon.

He said: "There's never a dull moment here, that's for sure.We're all a bit crazy. But funny crazy, not psychotic."

He said his children - music-mad, Kelly, aged 16, Richie, a 15-year-old motorbike fanatic, two-year-old tot Jay and "former couch potato Kimberley - all had stories to tell that would make interesting TV and funny story lines.

Nic added: "Let's not forget, Nutty Nanny June, my mother-in-law, who is a real lunatic and Simeon our nephew. Because we were all born very closely, we've got 10 birthdays to remember just for the month of October. It's a nightmare but I'm sure it would provide plenty of material for story lines. We've got tropical fish in a tank including a huge one called Mick Jagger.

"Richie has just moved onto a senior category with his 125cc scrambler, the girls are becoming typical teenagers interested in music, fashion and boys, and I stay at home, looking after Kath who has a bad back and Jay.

"I missed seeing the three other kids grow up, so it's fantastic to be able to watch him grow.

"We've got a lot to show and would certainly be an interesting family as a cartoon, even if it'd be quite weird to see yourself on TV."

The Hynams will go to London before the end of the year to be interviewed and sketched by cartoon artists, animators and script writers at the Nickelodeon studios.

"It'll be like a second round of interviews for a job, " said Nick Southall, spokesman and judge for Nickelodeon.

Whatever happens the Hynams remain philosophical about their cartoon future.

Nic said: "It'll be great to win, but if we don't our trip to London wit the other families will be a nice day out. It'll be interesting and quite a laugh."
---
Here We Go Again
Apparently, one contest and ten finalists isn't good enough, so in November 2002, Nicktoons TV has organised another contest to round up ten more finalists, according to Claudia Joseph in News Of The World:
Do you sometimes feel your familys life's like a cartoon strip? Is dinner round your house similar to an episode of The Simpsons?

Well if so, you've got to enter our fabulous competition.

Leading British animator Milo Waterfield will immortalise the winners in celluloid on the new cable channel Nicktoons. They will be flown to LA to witness their lives being animated and their voices portrayed by top actors. The series has the potential to become as popular as the global smash The Simpsons.

Nickelodeon's programming director Howard Litton says: "We think the opportunity of having your family immortalised in a cartoon will get the UK buzzing. Our 'toons are unique because they relate to real life. Hey Arnold! deals with the relationship within a group of friends while Rugrats highlights sibling rivalry.

The Nicktoons TV Family is a cartoon first. You can't get any more real life than taking a real UK family and transforming them into a cartoon."

Your chance to be a star

To enter, send a photo of your family together with 50 words about them to:

Nicktoons TV Family
C/O Frank PR,
7-9 Ferdinand Street
London
NW1 8ES

You should explain which members of your family you'd like included and state why you would all make good TV.

The closing date for entries is November 24, 2002, after which 10 families will be interviewed.

The Winners, who will be flown to LA to visit the animation studios, will be revealed next spring when the show airs.
(Source: The Nickdisk Forum)
---
And at the end, in early 2003, the Moores were selected to be the Nicktoons TV Family. And the rest is history.