Above: A picture of Eliza, Tommy & Angelica, fron an ad for Nick in the November 1999 issue of Nickelodeon Magazine. Expect to see them together again real soon in the 3rd Rugrats film.

(©1999 Viacom.)

| | |
| --- | --- |
| | Left: Arlene Klasky & Gabor Csupo, from an article in the Los Angeles Times, 8/16/1998. Photo by Vince Gonzales; © 1998 Los Angeles Times. Special thanks to Matt Hawthorne. |

(This is a list of Klasky-Csupo's TV programs, gathered according to my current knowledge of what they did. Please let me know if you have anything to add, correct, or clarify.)

Above: The Rugrats gang travels about with the Sesame Street, er, Real Monsters monsters, both creations of Klasky-Csupo.

(From Nickelodeon's ad in the 5/15/1997 issue of Variety, ©1997 by Viacom.)


(Banner © 2000 Twentieth Century - Fox Film Corporation.)

The Tracey Ullman Show (FOX, 1987-1990, "The Simpsons" shorts)

The Simpsons (FOX, 12/??/1989-, animation producers (1989-1992))

Rugrats (Nickelodeon, 8/11/1991-, creators (with Paul Germain), executive producers for K-C)

Duckman (USA Network, 1994-1997, executive producers with Jeff Reno and Ron Osborn)(seen on Comedy Central -- January 2000 to late 2001)

Aaahh! Real Monsters (Nickelodeon, 1994-1997, creators (Gabor Csupo only, with Peter Gaffney), executive producers for K-C)

Santo Bugito (CBS, 1995-1996, creator (Arlene Klasky only), executive producers)

Mad TV (FOX, 1995-, produced animated segments based on "Mad Magazine" characters (1995-1997))

"Edith Ann" specials (ABC, 1993-94, executive producers, based on Lily Tomlin's character)

Nacho and Dog (Taco Bell commercials, ???-1997)

What A Cartoon Show (Cartoon Network, ???-, selected shorts, in association with Hanna-Barbera)

Haunted House (CD-Rom from Instinct, 1996, characters, producers)

The Wild Thornberrys (Nickelodeon, 9/1/1998-)

Stressed Eric (BBC, 1997; NBC, 8/12/1998-8/26/1998; produced in Britain in association with Absolutely Productions and the BBC)

The Wacky Adventures Of Ronald McDonald (Direct-to-video series for McDonald's, October 1998-2001)

What's Inside Heidi's Head? (Nick & Noggin, February 1999-; live-action shorts, produced in association with Atomeka Productions (Nancye Ferguson & Mark Mothersbaugh))

Rocket Power (Nick, 8/16/1999-)

As Told By Ginger (Nick, 10/25/2000-)

The Immigrants (TNN, slated to debut early 2003)

Left: Ad from Klasky-Csupo saluting Nickelodeon on its 20th birthday; from the 6/15/1999 issue of The Hollywood Reporter. This ad features characters from all 4 of K-C's Nicktoons -- Rugrats, Real Monsters, The Wild Thornberrys and Rocket Power. For a larger image, click here.

(©1999 Klasky-Csupo, Inc. Nicktoon characters ©Viacom.)

Variety Salutes K-C's 20th Anniversary

In the 9/30/2002 issue of the national edition of Variety magazine, there was a special salute to Klasky-Csupo, as they celebrate 20 years of fine animation. As with other salutes that are often published in Variety, this issue featured historical retrospectives, future plans, and of course, congratulatory ads placed by various friends in the industry.

For a look at these ads, click here.

(Left: Cover of the 9/30/2002 issue of national Variety, featuring the Thornberry-esque picture of the studio's founders, Arlene Klasky and Gabor Csupo. © 2002 Variety & Klasky-Csupo.)

Get the scoops direct
Started in October 2001, Klasky Csupo now issues a weekly Cooltoons newsletter, talking about the latest developments from the studio. You won't get the scoops from Nickelodeon, so you might as well get them from the real source -- Klasky Csupo.
Here's how to get your free subscription:

If you're 13 years of age or over:

If you're under 13 years of age:

E-mail the webmaster at:

with the subject line "Over 13 Newsletter sign up"
(no need to write anything in the message).

E-mail the webmaster at:

with the subject line "Permission Slip".

In the message, include your name and e-mail address
(the one where you'll be getting the newsletter), plus your
parent's names and e-mail address, and your parents'
statement of permission.
Allow one week to receive your first newsletter.

For information regarding the following programs, click below:
For more information on K-C's projects, visit their web site.
For more information on K-C's animated series, click here.

The Business Of Klasky-Csupo
These days, Klasky-Csupo is more than just Rugrats; in fact, more than just cartoons. These businesses are just as eclectic as the cartoons they make. Here are the businesses that are part of the K-C family:
Global Tantrum: Klasky Csupo's newest division, specialising in adult animation. Currently, Global Tantrum is producing 3 pilots for future series on TNN; the first of these being The Immigrants, a series about a pair of Russian and Mexican immigrants in Hollywood. That series is due to begin in early 2003.
Tone Casualties & Casual Tonalities: Record labels founded by Gabor Csupo, who is a jazz artist himself. Tone Casualties aim at the dark, moody types of music, while Casual Tonalities go for more commercial artists. Artists with TC and CT include Csupo, Frank Zappa, Drew Newmann, and The Pugs.
Class-Key Chew-Po Commercials: K-C's advertising arm, with clients like Lincoln-Mercury, Kraft Foods, Campbell's, Burger King, McDonald's and Coca-Cola.
Klasky-Csupo Publishing Division: Publisher of books about animation, in association with Simon & Schuster. Now in stores: their first book, about the making of The Rugrats Movie (see the movie page on how to get yours, direct from the publisher, at a discount). Other books now in production include "The Art of Artist Janos Baska Soos", "Igor Kovalyov: A Director's Notebook" and a series of childrens books based on the short-lived 1995 CBS series, Santo Bugito. Unfortunately, only The Rugrats Movie book was published so far (to my knowledge).
Lumpy Gravy: Csupo's restaurant located in West Hollywood, CA, "where art, music & food collide." Opened in 1997, it closed in June 1999.

Where To Find Klasky-Csupo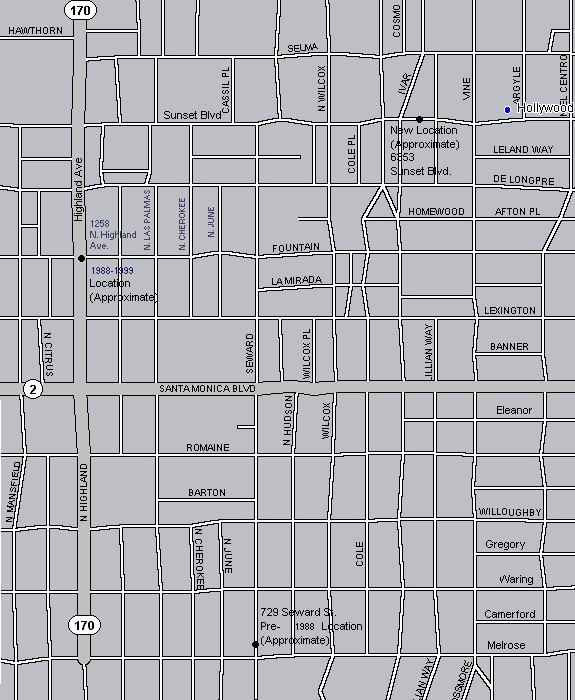 Above: A map showing the approximate locations of Klasky-Csupo's old and new studio in Hollywood. The new studio at 6353 Sunset Blvd. is located a short distance away from their previous location at 1258 N. Highland. Also shown on map is K-C's pre-1988 location at 729 Seward. (Map from the EasyMaps CD-Rom, ©1998 Chicago Maps Corporation; portions ©1998 TRIUS, Inc.)
Question: What did Klasky-Csupo do with the extra money that they made on The Rugrats Movie?
Answer: Move to a new building.
Around July 1999, Klasky Csupo moved to a former Mercedes-Benz showroom on the fabled Sunset Boulevard, opposite the Cinerama Dome theater. Their new studio, a 6-floor 95,000 square-foot glass & steel structure, provides workspace for 500 employees of K-C. In addition to the new building, new equipment is included, featuring computer graphics workstations, and post production and recording facilities.
To make the new location as distinctive as their old one, they placed a K-C logo on the side of the building, as well as a neon sculpture of Tommy and his star ball on top. For pictures of the old and new building, see their web site.
The new studios is located on Sunset Blvd., between Ivor and Morningside Streets, west of Vine and about 2 blocks west of the Nickelodeon on Sunset studios. And located nearby is the Cinerama Dome Theater, at 6360 Sunset Blvd. -- this is where Rugrats In Paris and The Wild Thornberrys Movie had their premieres.
With the move, and their desire to remain in the Hollywood area, K-C is contributing to the revitalisation of Hollywood. According to Los Angeles mayor Richard Riordan, "This is great news for the heart of Hollywood. The commitment of Klasky Csupo, one of our city's most creative and successful entertainment companies, is another important step in the revitalization of Hollywood."
This is the fourth place that Klasky-Csupo called "home" -- in 1982, it started in their apartment, then later, at Bob Clampett's old studio at 729 Seward St., near Melrose Ave. In 1988, they moved to Highland (1258) and Fountain.
As for the old, mural-covered Highland Ave. location? Klasky Csupo's still there -- these days, their sound operations, including the voice recordings for Rugrats and other K-C shows, are done at Highland Ave.
(Source: Animation World Network)

How To Reach Klasky-Csupo or Tone Casualties:
Snail-Mail:
6353 Sunset Blvd.
Hollywood, CA 90028
---
E-Mail:
Klasky-Csupo: webmaster@klaskycsupo.com
---
Web Sites:

Klasky-Csupo main site (Features info about the company, especially areas that are beyond the scope of the Cooltoons site (see below).)
Cooltoons (Klasky-Csupo's showcase of their animated series.)
Klasky-Csupo's Rugrats Site (Official)
Tone Casualties (K-C's record label.)
World Animation Celebration (An annual animation festival in Los Angeles, CA, founded in 1985 by Terry Thoren, currently CEO of Klasky-Csupo (one of the sponsors).)
A Couple Of Sites That Are Important To Klasky-Csupo's History:
Pannóniafilm (The Hungarian animation studio where Gabor Csupo worked from 1971 to 1975. In English.)
Kerstin Olsson-Grönvik (A Swedish animator & illustrator who introduced Arlene Klasky to Gabor Csupo in Stockholm in the mid-1970s. In Swedish & English. Also available here.)
The Internet Archive:
Previous revisions of the Klasky-Csupo (since 1998) and Cooltoons (since 1999) websites are available at The Internet Archive.
(Warning: Pages are very slow to load, due to high volumes of traffic. Some graphics may be missing. Also, because of this, service may be out at times.)